BURLINGTON GARDEN CLUB WON FIRST PLACE
​


​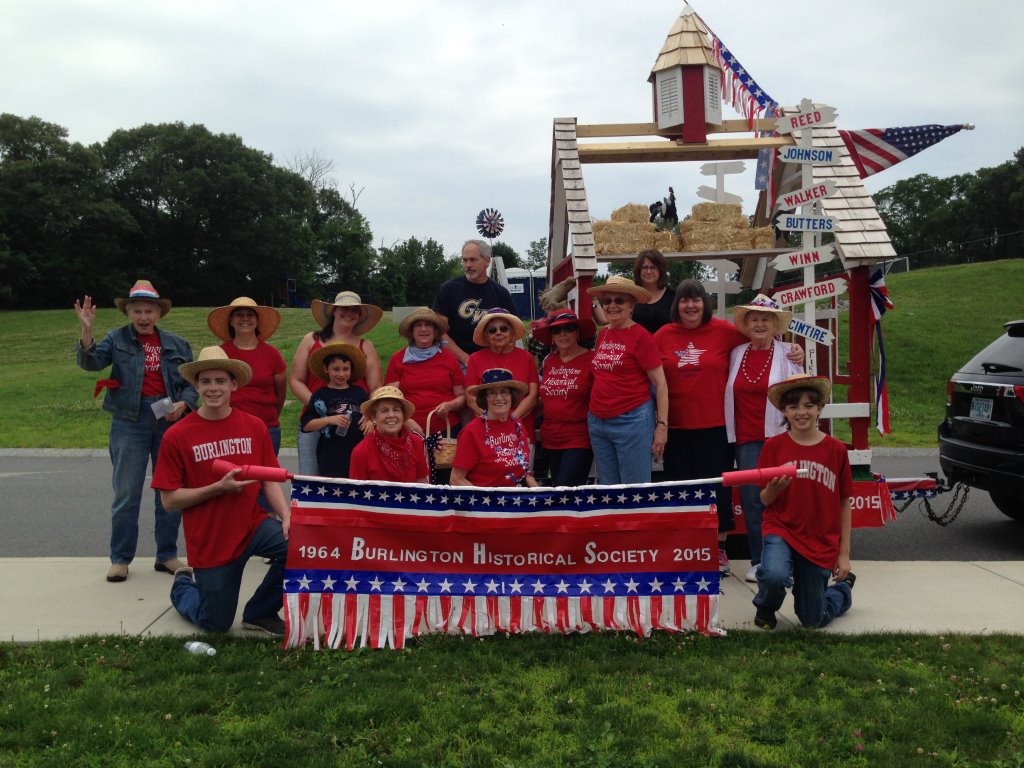 The 2015 Winning Team. Our float showed farming history in Burlington. All the names of historical families were on the trailer. These names should not be forgotten. .Here are the names of Burlington's first farm owners: Reed, Johnson, Walker, Butters, Winn, Crawford, McIntire, Graham, Pattison, Bennett, Kerrigan, Sousa and Skelton. Please let me know if I have forgotten one of the original farming families.
July 4, 2014
FOURTH OF JULY 2015
Burlington Historical Society won FIRST PLACE with our 50 year Anniversary Cake. Rick Nohelty designed and built the winning float. Among the candles and flowers were replicas of famous Burlington homes and places...The West School, The Town Hall, Grandview Farm, Congregational Church, The Museum, and the Town Gazebo. The float rolled down the streets of Burlington for 2 miles on a rainy, but very happy day enjoyed by all. .
---
July 4, 2013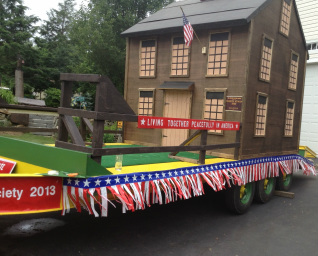 Burlington historical society's replica of the Francis Wyman house won 3rd place in Burlington's 2013 4th of July parade. The Francis Wyman House is the oldest house in town and listed on the National Register of Historic Places. Rebecca Lofgren, a member of the Wyman family can be seen riding on the float in full costume as would be seen in 1666. Mike Tredeau from the Commission looked quite regal in his authentic clothing,

Our theme was "Living Peacefully Together in America". Native Americans and American Settlers
Traded goods, food and a new way of life in peace on the land of Francis Wyman. The Native American girls on the trailer are Molly and Meghan, grand daughters of the Gaffney's of the Historical Society

Fred Keene, a retired Burlington Firefighter, designed and built the Francis Wyman House for our float. Mr Keene is donating the structure to the Francis Wyman Association.

The artwork of the Native American and the American Settler was done by Gam Dhliwaya, a recent graduate of Burlington High School. We wish Gam success in her art career.

Thank you to all the members and children who never let the heat stop them from marching on. A day to remember!
---
---

2011 - 2012
Showing our spirit in the Burlington Independence Day Parade !
First Place Winners



Since 2011, the Burlington Historical Society has entered a float to honor Burlington's past and present.

Slideshow to the left shows slides from 2011 and 2012 including the float construction.

The movies below show the day of the parade.
---
2013 - Third Place
---
2012 First Place Winners - Our Farming Heritage
---
2011 - First Place Winners - The Old West School